The National Glass Fair will be held on Sunday 22nd November. If you haven't visited before then do try to come along, and if you have, then you'll know that this fair is well worth a visit!
Are you an avid collector or are you keen to know a little more before you dip your toe into the water? Either way, the National Glass Fair can provide you with either another piece to add to your collection or the knowledge and opportunity to encourage those first important steps......
Or maybe you just like to browse among the fantastic array of wonderful glass and get lost in it all. With so many different styles of glass from all eras on display you will be in your element!
There will also be an exhibition of carnival glass in Hall 1 which will be loaned by the Carnival Glass Society who will be in attendance to answer your questions.
The fair is held at the National Motorcycle Museum in Solihull which is easily accessible and is itself an interesting venue with a restaurant and free parking.
This is a great day out!

www.nationalglassfair.com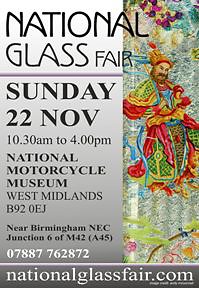 Time for an update... the exhibitor list and floorplan are now available on the fair website at
www.nationalglassfair.com.
The Preview Gallery is also updated regularly and there is some stunning glass shown there all of which will be on sale at the fair.
We are looking forward to setting out our Christmas Table in the foyer. Lots of lovely decorations for your tree and table plus super gift ideas. Come to the fair and do your Christmas shopping!
See us on Facebook and don't forget to 'like' our page, please.

---
Permissions in this forum:
You
cannot
reply to topics in this forum